LIVE from the EIB Northern Command in NYC...
• Thomas Sowell's Latest Column: Republican Voters' Choices
"My hope is that this large selection of my writings will reduce the likelihood that readers will misunderstand what I have said on many controversial issues over the years. Whether the reader will agree with all my conclusions is another question entirely. But disagreements can be productive, while misunderstandings seldom are." -Dr. Thomas Sowell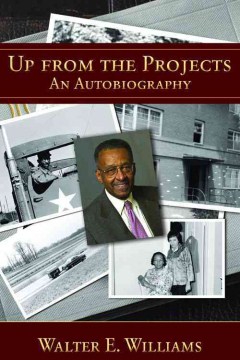 Dr. Williams has served on the faculty of George Mason University in Fairfax, VA, as John M. Olin Distinguished Professor of Economics, since 1980; from 1995 to 2001, he was department chairman.
• Visit WalterEWilliams.com for more
"When God gave Moses the commandment, 'Thou Shalt Not Steal,' I don't think He meant, 'Thou Shalt Not Steal Except When You Have a Majority Vote in Congress.'" -Dr. Williams
LISTEN: SOCIAL SECURITY IS ABSURD & UNSUSTAINABLE
• Robert Samuelson: Why are We in This Debt Fix? It's the Elderly, Stupid

"The only way the American government can give one American a dollar is to take it from another American." -Dr. Wiliams
"Is that Sly and the Family Stone, Mr. Engineer? Well, see? I'm kind of hep, ain't I? I'm not old -- and you've seen me dance to Sly and the Family Stone, too." -Dr. Williams
• Mitt: O "Sounds Like Marie Antoinette"
"The issue today is the same as it has been throughout all history: Whether man shall be allowed to govern himself or be ruled by a small elite." -Thomas Jefferson
• Dr. Walter E. Williams' Latest Column: China Trade Myths versus Reality
"Do you realize the world has been messed up by 'smart people'? Dumb people haven't messed up the world. It's been messed up by smart people who think they know better than everyone else." -Dr. Williams
• Quotations Dr. Williams Enjoys
"When you reach into your own pocket to help your fellow man, that's laudable. When you reach into somebody else's pocket, I think that's despicable." -Dr. Williams
LISTEN: DR. THOMAS SOWELL CALLS INTO THE PROGRAM
• Read it! The Thomas Sowell Reader

"Those rioters in London were not poor, starving people. In all these riots I've read about, I've never seen anyone break into a bakery. They're taking Xboxes." -Dr. Sowell
• Robert Rector & Rachel Sheffield: What is Poverty in the United States Today?

"This is really a masterpiece that he has assembled in The Thomas Sowell Reader. Start with 'Life at the Bottom.'" -Dr. Williams

LISTEN: OBAMA'S LEGACY IS FDR'S: PROLONGED PAIN
"I wouldn't put Barack Obama in a class with Jimmy Carter's failures. I'd put him in a class with FDR's failures." -Dr. Williams
• Ominous Parallels Between Obama and Franklin Roosevelt Grow -Dr. Williams

"There seems to be no question that he is really interested in what we are doing and I am much interested and deeply impressed by what he has accomplished and by his evidenced honest purpose of restoring Italy." -President Franklin D. Roosevelt on Fascist Italian Dictator Benito Mussolini