• The 'Heartbeat Bill': A New Campaign to Reshape America's Abortion Fight
• Solidarity Saturday: Occupy Wall Street Goes Global
• Report: Holdren's WH Office and IPCC coordinated to subvert FOIA: 'Obama admin. & IPCC have cooperated to subvert U.S. transparency laws, run domestically out of Holdren's office'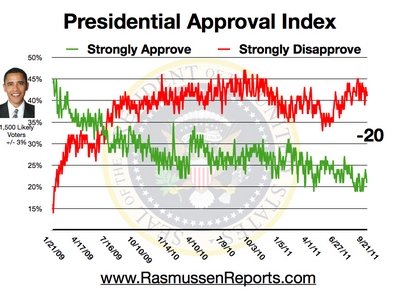 • Presidential Approval Index Tracking Poll
• 58% Think Repeal of Health Care Law Likely
• 30% Rate Personal Finances as Good or Excellent, 28% Say Poor



• Why Does the President's Jobs Plan Keep Failing?
• Europe's Last Stand Needs Overwhelming Firepower
• Germany Shoots Down 'Dreams' of Swift Crisis Solution
• Bulls and Bears Agree: Consumer Stocks Pricey
• Cain's 2012 Campaign Built on the Fly Fights to Keep Momentum

• HEADLINE
• HEADLINE
• HEADLINE
• Schultz: 'Occupy' In Tune With Working People



• 'Pontypool' Review: An Innovative Take on the Undead Film Genre
• Ruffalo Slams Fox News, Says Actors Fear Embracing Occupy Wall Street
• 'The Walking Dead' Review: A Zombie Series with Brains



• When Zombies Attack: Protest in Lafayette Park!
• DNCC Chair, Rep. Israel Adds #OccupyWall St to the List of Anti-Israel/Anti-Semitic Causes He Supports
• Video: Communist Party U.S.A. Spokesman Gets Overwhelming Applause from #OccupyChicago



• Journolist 2.0: OccupyDC Emails Show MSM, Dylan Ratigan, Working With Protesters To Craft Message
• Following Up With The Washington Post On Their Fast And Furious Coverage



• Issa: FBI Needs To Come Clean In 'Fast & Furious' Investigation
• Ruth Marcus: Rick Perry Like Monty Python's Parrot Not Dead Yet
• NBC News' Sharpton: 'If You Won't Get Jobs Bill Done In Suite, We Will Get Done In Street!'
• Evoking MLK, Obama Gives Shout-Out To #OccupyWallStreet
• Lisa Fithian: #Occupy Organizer, Union EducatorAnd Israel-Hater
• #OccupySF Speaker: Bank Of America Arresting Customers For Closing Accounts
• Black Panther At #OccupyCleveland: 'We Need To Take Back The Street!'


• The Briefing Room
• Voters say Washington is worse than Wall Street
• Rallying behind Wall Street protests, the left finds its mojo
• Obama wants $35 billion for teachers, first-responders first
INVESTOR'S BUSINESS DAILY
• Political News & Commentary: Andrew Malcolm
• HThere's No Dearth Of Job-Creating Ideas
• The Austerity Myth: Federal Spending Up 5% This Year
• Herman Cain explains Herman Cain
• OWS' Program? Distract From Dems' Failures
• America Wrongly Thinks Its Prosperity Can't End



• Romney: Too unloved to be inevitable?
• Obama kicks off another bus tour
• GOP leaders prepare for deficit deal
• Pew: Media not in love with Obama
• Playbook: Team Obama social media
• Cain foreign policy: Ask the experts
• Page Six
• New York's Marxist Epicenter



• The Blog

• Today's Standard
• Boneheaded Economics

• Top of the Ticket
• Submachine guns, handguns stolen from LAPD


• Obama seeks action on jobs bill pieces this week
• Syrian troops fight defectors in northwest region
• Very bad Nevada economy threatens Obama
• Challenges loom as world population hits 7 billion
• Sick American engineer evacuated from South Pole
• Two-time Indy 500 winner Wheldon killed in wreck
• Study blames global warming for shrinking species



• Citigroup Q3 net rises, boosted by accounting gain
• September industrial output up on factory gain
• Obama seeks to tap anti-Wall Street anger
• Israeli Court to discuss prisoner exchange
• Occupy college: How to shut down student debt
• African women seen key to solving hunger



• Obama's dilemma over the Keystone pipeline
• Downwardly mobile America?
• In the complex world of espionage, a hero to a small cadre of ex-spies
• Perry's calls for tough border security, but operation results remain hidden
• Veterans' unemployment rate well above civilian jobless rate, data shows
• States aggressively implementing health-care overhaul find limits

• U.S. Unemployment Down Sharply in Early October
• Unhealthy U.S. Workers' Absenteeism Costs $153 Billion

• RCP Blog

• Real Clear Markets

• Herman Cain On "Meet The Press": Liberals Are "Destroying" Economy
• Issa: Holder "Clearly Knew More" Than What He Said He Knew
• Harris Perry: Pointing Out Only 53% Pay Federal Taxes Is "Racism"
• Sean Penn: Tea Party Is "Get The N-Word Out Of The White House Party"
• Beltway Confidential
• Fox News points to future of television news



• Red, White and Angry?: Communist, Nazi parties endorse 'Occupy' protests
• As poll numbers slide, Obama embraces 'Occupy' protests



• BP Reaches $4B Settlement
• Hillary Hits the Mark


• Why Did Romney Use Obama's Climate Guru? – Ed Morrissey
• Video: OWS meltdown star a Columbia grad student with a trust fund
• Gingrich: Romney is a little "Rockefeller" to capture conservatives
• Great news: OWS now endorsed by both Communist and Nazi Parties
• Devastating: HHS abandons part of ObamaCare as fiscally unworkable



• The Note
• Political Punch – Jake Tapper
• Activists React to President Sending Troops to Africa


WALL STREET JOURNAL: OPINION JOURNAL
• Best of the Web (James Taranto)
• 3 Policies That Gave Us "Jobs Economy"
• ObamaCare Starts to Unravel
• Crovitz: Occupy Wall Street's Crony Capitalism
• Argentina's Warning to America
• Ho Hum, a Black Candidate



• Blogs: The Corner | Media Blog | Frum's Diary | Mark Levin | Sixers
• Power Politics: Perry's Energy Plan Is a Very Good One
• Cain's Caustic Columns
• Love on the Campaign Trail

• GOP Campaign Apocalypse
• Occu-Pied Obama
• Where Are the Grownups?


• WaPo's Marcus on Rick Perry: 'He's Like Monty Python's Parrot – He's Not Dead Yet'
• NBC's Isikoff Warns Cain's 9-9-9 Plan May Mean 'More Pain' for 'Struggling Families'
• Sharpton: People Favoring Voter IDs Want to 'Revoke the Voting Rights Act'
• Will Media Report Racism and Anti-Semitism at Occupy Wall Street Protests?
• White House Chief of Staff: 'Certain People in the Media…Carry the Water' for Obama's Opponents
• Ann Coulter: Media 'Will Lie About the Economy' To Get Obama Reelected
• MSNBC's Matthews, O'Donnell, Schultz and Sharpton Have Totally Ignored Solyndra for Six Weeks Now
• Judge Blocks Release of Recusal-Related Emails Kagan Sent WHSays They're 'Personal'
• Send Obama To Remedial Math Before His Next Spending-For-Jobs Bill
• Energy Dept Should Have Sought Legal Opinion on Solyndra Loan, Treasury Official Tells Congress
• Calif. Dems in Congress Want Obama to Refinance All Mortgages Held by Fannie Mae & Freddie Mac
• Jackson Lee: Abortion 'Needed Action', Refers To Heartbeat Of Babies As 'Sounds'



• Roger Ailes: The Most Powerful Man in News
• Issa: Holder Obviously Knew More Than He Admits


• Notable Quotables: Media Cheer Anti-Capitalist Sit-In; It's Spread to "More than 1,000 Countries"
• Williams Hypes Protests 'Still Growing, Changing and Spreading,' CBS Delivers 'Series' of Genial Stories
• Paul Krugman: Occupy Wall Street Protest 'a Wonderful Thing'
• Sean Penn Calls Tea Party the 'Get the N-Word Out of the White House Party' Which Wants to 'Lynch' Obama
• Maher Bets $1 Million 'Token Black Guy' Cain Loses GOP Nod



• Online shopping, banking at risk from increased hacking
• Obama: MLK would have backed 'Occupy' protests
• Solyndra won't talk about its contracts
• GOP hopefuls struggle raising money nationally
• Nobody needs Michael Moore's hypocritical advice
• Sham entry of Hispanic could sway Arizona vote



"I must be honest. I can only read so many paragraphs of a New York Times story before I puke." -Rush Limbaugh
• For $10, He'll Find Guys Who Didn't Do It
• Pleas Unheeded as Students' Jobs in U.S. Soured
• Big Cash Edge Powers Obama in Campaign Drive for 2012
• Citigroup Earnings Rise 74% to $3.8 Billion
• Robots to aid troop patrols
• Lowe's to close 20 stores nationwide, cut 1,950 jobs



• Gaddafi stronghold Bani Walid falls
• Man uses iPhone's new Find My Friends GPS function to catch his wife cheating
• Herman Cain under fire over '9-9-9' tax plan as he admits some Americans will pay more
• No chance: Killer whales figure out how to work together to create a deadly wave that kills three out of four seals they target


• Energy prices 'will continue to rise'