• Jobless Claims Top 400,000 – Again
• An Unprecedented 26 Million Americans Are Now Underemployed
• US 'Misery Index' Rises
• A Long, Steep Drop for Americans' Standard of Living
• Energy Department Altered Loan
• Intensive riot training preps officers for DNC
• Barney Frank supports protests, raises Wall St. cash
• Gaddafi killed as Libya's revolt claims hometown
• Is Herman Cain the Most Unctuous Black Man in America?
• Is the Occupy Wall Street Protest Too White?
• Warmists Now Claim Global Warming 'Worse than Predicted'?! Climate Depot Responds: 'The scientific case for man-made climate fears has collapsed'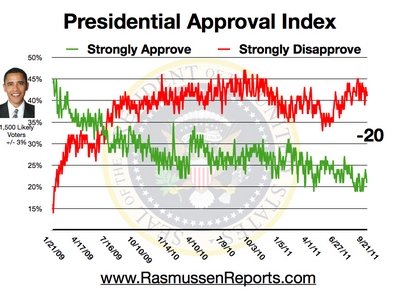 • Presidential Approval Index Tracking Poll
• 15% Say U.S. Heading In Right Direction
• New High: 80% Say Now Isn't Time To Sell Home



• What Should Be Done About The Backdoor Attempt to Rewrite NCLB?
• Merkel Risks Own Downfall to Save Greece
• Consumers Most Negative Since Recession
• Wall Street Has Worst Quarter Since Crisis
• SEC Cases Bypass Top Execs to Target Employees for Negligence

• Steve Wynn Goes On Big Rant About Occupy Wall Street, Obama, Deficits And Anger At The Government
• Schultz: 'Occupy' In Tune With Working People




• Sony to Push Release Date of Bin Laden Film to Post-Election Slot?
• Video: Alec Baldwin Sweeps Park, Chats with Bodyguard, Defends Capitalism at Occupy Wall Street



• Teacher Choked, Women Attacked at #OccupyOakland: It's 'Lord of the Flies' Among Anarchists, Drug Dealers
• Obama, Lawless Protesters Embrace Each Other
• Occupy OFA? Obama Holds More Financial Sector Donations Than All GOP Candidates Combined



• Politico Tries to Smear Herman Cain With Bad Pizza
• Source: ABC Reporter's Life Allegedly Threatened at Occupy Oakland; 'We Shoot White Bitches Like You Around Here'



• Cain: I'm Against Abortion, Without ExceptionsBut It's Not the Government's Choice to Make
• Speaker at #OccupyBoston: America Needs to 'Get the F*ck Out of the Entire World'
• Demint: 2012 'Might Be the Last Chance' to Fix The Country
• Debbie Wasserman-Schultz: 'Demonization' of Democrat Leaders Is 'Irresponsible'
• Breitbart: #OccupyWallStreet Imitating SEIU and ACORN
• Bryant Gumbel Likens NBA Players' Strike with Slavery; David Stern 'Plantation Overseer'
• #OccupyEugene Tent City Displaces Farmers' Market Threatening Hundreds of Jobs

• The Briefing Room
• RNC blasts Biden for linking jobs bill to violent crime rate
• Biden: Republicans protect the rich at expense of teachers, responders
• Pelosi's silent treatment shows breaks with President Obama
INVESTOR'S BUSINESS DAILY
• Political News & Commentary: Andrew Malcolm
• Democrats Get It Exactly Wrong on Jobs
• HRon Paul's Really Good Idea
• College Has Been Oversold



• Labor lags in new fundraising world
• W.H. can't confirm Qadhafi news
• Obama learns perils of roiling Waters
• Perry, Romney: New level of nasty
• 2012 looking tough for unions?
• Clinton, Karzai chuckle over Cain
• Page Six
• Rain scatters Occupy Wall Street protesters
• Number of NYers no longer eligible for jobless benefits jumped 30 percent in Sept.



• Obama and Occupy Wall Street Are One

• Today's Standard
• Time for Another Harding?

• Top of the Ticket
• Billions spent on junior college dropouts
• Obama in the Occupy Wall Street Camp



• Libya officials: Gadhafi captured, possibly killed
• Clinton: Pakistan must boost anti-terror fight
• Democrats target Romney, draw from Bush vs. Kerry
• Mexico tackles epidemic of childhood obesity
• Free LA medical clinic to draw 5,000 uninsured
• GOP primary contest is getting nasty, personal



• Muammar Gaddafi reported killed
• Euro zone rescue plans shrouded in doubt
• Facebook makes us embrace creepy
• Optimize your 60s for retirement success
• It's official: Your paycheck shrank
• More Americans using antidepressants



• Gaddafi reported captured, possibly killed
• Wall St. cash still backing Obama
• Letters show that Perry, Paul sought energy subsidies they now scorn
• Republican hazing ritual
• In Colorado, a clash over taxpayer rights
• Supercommittee's lack of progress on debt reduction raises alarms on Hill
• Americans Plan to Spend Same on Christmas 2011 as in 2010
• U.S. Unemployment Down Sharply in Early October
• Americans Grow More Negative About Their Personal Finances
• Unhealthy U.S. Workers' Absenteeism Costs $153 Billion
• Americans Blame Gov't More Than Wall Street for Economy

• RCP Blog

• Real Clear Markets

• The Left's Race Baiting of Herman Cain
• With Debate Hiatus, Candidates Will Hit the Trail
• Herman Cain: GOP Candidates "Getting On My Last Nerve"
• Beltway Confidential
• Three cheers for the Employee Rights Act



• Oh, This Is Good
• Support mental health or I'll kill you



• Despite warning signs, Romney declines to reach out to major tea party groups
• Obama campaign asks artists to 'work for free' on jobs posters, sparking outrage



• 5 Ways Perry Can Make a Comeback



• Jason Mattera to Joe Biden: So you're really going to sell this jobs bill by talking about rape, huh?
• New Perry ad: That Romney's kind of a liar, ain't he?
• The Paul plan: Lots of zeros, little explanation
• Wall Street tells Dems not to expect any love this cycle


• The Note
• Political Punch – Jake Tapper
• Field of Dreams a Nightmare as City



WALL STREET JOURNAL: OPINION JOURNAL
• Best of the Web (James Taranto)
• Blame the Fed for the Financial Crisis – Rep. Ron Paul
• The GOP and RomneyCare
• Henninger: Squatting on Wall Street
• ObamaCare's Heritage



• Blogs: The Corner | Media Blog | Frum's Diary | Mark Levin | Sixers
• Boehner: Obama Balked
• Railing Against Reality
• Can Herman Cain Pull It Off?

• Empty-Headed Protest
• Don't Know Much About History



• Obama Energy Dept. Literally Re-writing History; Will Media Report?
• ABC Touts Tapper's Question to Obama on Children's Books, Spikes His Fast and Furious Query
• Multimillionaire OWS Supporter Russell 'I Want to Pay More Taxes' Simmons Now Says 'I Don't Pay Taxes'
• Reid: 'Private-Sector Jobs Have Been Doing Just Fine'; Hill Reporter Carries His Water
• Obama's 'All the Choices We've Made Have Been the Right Ones' Remark Absent at Gatekeepers AP, NYT
• Napolitano: DHS Authorizing Illegal Aliens to Work in U.S.
• Liberal Alec Baldwin: 'I Think Capitalism is Worthwhile'



• Gadhafi Dead After Air Strike Bombards Hometown
• Bolton: Gadhafi Death Should Have Come Sooner
• Obama to Appear on 'The Tonight Show' with Leno


• NBC's Mitchell Gushes Over Michelle Obama As 'Not So Secret Political Weapon'
• NBC's Chuck Todd Admonishes Andrea Mitchell for Lame Attempt to Play Race Card on Rick Perry
• NBC's 'Today': Obama 'Sparked a Giggle-Fest' Over Justin Bieber During Bus Tour



• Inquiry into Gray campaign allegations heating up
• Britons pin economic troubles on immigrant policies
• Cain super-PAC might violate election law
• Social Security benefits to increase in 2012
• Revived Perry presses Romney, pushes for flat tax
• Solyndra beats back federal takeover, but not Justice concerns

"I must be honest. I can only read so many paragraphs of a New York Times story before I puke." -Rush Limbaugh
• Clinton Issues Blunt Warning to Pakistan
• 2Republicans Share History of Bad Blood
• For Artists, Britain Puts Out an Unwelcome Mat
• Rush to Drill for Gas Creates Conflicts With Mortgages
• Study links neighborhood to obesity, diabetes risk


• All Huffy, Joe Biden Stands By Rape Reference to GOP
• Still cashing his checks: 'Adult baby' who wears diapers and drinks from a bottle is cleared of fraud… and is STILL getting his disability benefits
• 'Be a lady in the living room and a whore in the bedroom': GOP candidate under fire over 'anti-female' tweets
• 'We'll send criminals home first': Obama administration prepares to deport record numbers of illegal immigrants
• Black women should look outside their race for a successful man, says Stanford law professor


• Occupy Protests Have Lit a Fire for Change