• The Petraeus Case: Why Wasn't Obama Informed?
• Will the Global Economy Tumble Off America's Fiscal Cliff?
• WATCH at 11 a.m.: Mark Levin on the Election and Constitutional Government
• Morning Bell: Do You Trust the Government with Your Computer?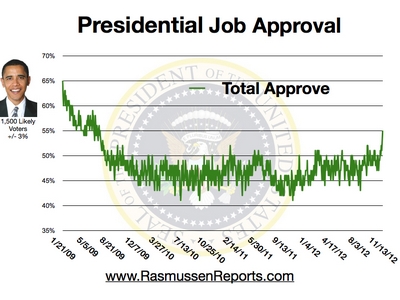 • Presidential Approval Index Tracking Poll
• 9% of Working Americans Consider Themselves Poor
• 76% Concerned About Inflation, 48% Very Concerned
• Petraeus affair hangs over Obama press conference
• AAA: Sandy won't dampen Thanksgiving travel plans

• Oppose corporate welfare, get called corporate shill in 'The Nation'
• Egyptian Arafat Wasn't Poisoned
• 'The Timing is Suspicious' Rep. Chaffetz: Congress will get to bottom of Petraeus
• Free vibrators give DC big buzz
• Unpaid social liaison Jill Kelley requests 'diplomatic protection' from police
• Republicans split on how to handle Obamacare after president's re-election
• Page Six
• Man busted for assault claims Fla. utility worker helping with Sandy recovery was relieving himself in public
• A pre-election whiff of scandal
• City leadership in Sandy's wake
• NATO Chief: 'Confidence' in Allen
• Woman Refused Abortion, Dies
• Jindal: End "dumbed-down" conservatism
• Important story of the day: Paul Ryan mentions turnout in cities, which is insensitive or something
• The Note
• Political Punch (Jake Tapper)
• New York area continues recovery from Hurricane Sandy
• Walmart Starts New Food Service
• Brain Damage Linked to Soccer
• Woman Runs Over Husband for Not Voting
"I must be honest. I can only read so many paragraphs of a New York Times story before I puke." -Rush Limbaugh
• Israeli Strike in Gaza Kills the Military Leader of Hamas
• China Pressures Businesses to Help Censor the Web
• The Problem of [Obama's] Diplomacy
• Russia Relations Warm After Obama's Re-election
• Pakistan to Free Taliban Prisoners
• Holder, Mueller Covered up Petraeus Scandal for Weeks as Election Neared
• Democrats brace for Rep. West court fight
• Lawmakers urge compromise, but refuse to budge from 'cliff'
• Investors cope with fear of falling off the 'fiscal cliff'
• Who knew? Conservative protest music of the '60s
• Rice seen likely to replace Clinton over GOP protest
• When Does 'Old Age' Start? When You Stop Shopping
• Researchers Debate a License to Smoke Cigarettes
• New Theory on Why Men Love Breasts
• Petraeus whistleblower Jill Kelley living large, but is flat broke and drowning in debt
• Petraeus and Allen's tawdry, low-rent behavior is beneath our dignity
• The Briefing Room
• Pelosi to remain as Democratic House leader in 113th Congress
• UN votes 188-3 to condemn JFK embargo on Cuba
• The Hill's 2012 New Members Guide
• House conservatives return with anxiety

• Nancy Pelosi to remain Democratic leader
• Mass. leaders on succession laws
• House GOP gives Ryan standing O
• The Blog

• Still Commander in Chief
• Putin: Obama Plans to Visit Russia
• Kristol Podcast: The Petraeus Affair and Raising Taxes!
• Kerry Coy About Future

• FHA backing loans for borrowers who defaulted in crisis
• L.A.'s proposed sales-tax hike is the 9 a.m. topic
• Scandal hits White House at awkward time



• New Israeli airstrikes rock Gaza City
• Lawmakers probe widening generals scandal
• Obama pressing business and labor on fiscal cliff
• Israel: Bid for "Palestine" at United Nations could threaten accords
• France recognizes new Syria opposition, U.S. hangs back
• Teen steps into snake nest while searching for cellphone signal
• Global warming hoax heats up, revisits carbon tax



• Israeli general sees "protracted days" of Gaza fighting
• Retail sales sag on autos, wholesale prices subdued
• U.N.'s nuclear report on Iran may not be all bad news for West
• Iran aims for baby boom, but are Iranians in the mood?



• Post Politics Blog


• FBI probes how woman obtained classified files
• Pelosi to remain House minority leader
• President to open talks with $1.6T plan to raise taxes on firms, the rich
• Obama signs secret directiveto help thwart cyberattacks
• China's new leader set to take the reins

• Americans Urge Congress, the President to Avoid Fiscal Cliff
• In U.S., Entrepreneurs Have Health Edge
• In U.S., 24% of Men, 2% of Women Are Veterans
• U.S. Workers Least Happy With Their Work Stress and Pay
• Gold to May Hit $2,000 on Money Printing, Deutsche Bank Says
• Bureaucrats Paid $250,000 Feed Outcry Over College Costs
• Smith: Obama's New Cabinet Can Make Trains Run on Time
• Google Says Governments Requesting More Content Removals
• O's Planned Hikes Trip Up Sharpton
INVESTOR'S BUSINESS DAILY
• Stocks Open With Narrow Gains; Cisco Systems Gains Ground
• Retail Sales Plummet After Sandy
• US wholesale prices fell 0.2 percent in October
• Who's doing who in the Obama team's sex scandals: A handy guide
• Who's doing who in the Obama team's sex scandals: A handy guide
• Voter Identification Laws Are Trouble For Democrats
• David Petraeus Will Testify On Benghazi, Reports Say
• Ed Schultz Goes Off On NY Times Reporter For Saying MSNBC Might Replace His Show
• Jon Stewart Tears Into Melodramatic Post-Election Whining About Obama's Second Term
• Scientists pan Gore's 'Dirty Weather' claims: 'The idea that we are responsible for extreme weather, let alone that we can change weather patterns is preposterous'
• $1.6 Trillion in Tax Hikes: Obama's Opening Bid Makes Deal Unlikely
• Dem Rep Has No Problem With U.S. Going over Fiscal Cliff Into Massive Recession
• Obamacare Will Create Two Americas for Healthcare
• For Some, Obama Was Just Good Enough
• CA Implements Cap and Trade Today
• Providing solutions for America

• RCP Blog
• Real Clear Markets
• GOP Debate on Social Issues Likely to Emerge
• Rice, Albright Share Concerns on Drones, China
• Before We Give Up, Could We At Least Try Selling Our Ideas?
WALL STREET JOURNAL: OPINION JOURNAL
• Best of the Web (James Taranto)
• Immigrants and the GOP
• Andrew Kohut: Misreading Election 2012
• Lloyd Blankfein: The Business Plan for American Revival
• Peggy Noonan: One Week Later
• O'Grady: The Real Victims of Mexico's Drug War



• Blogs: The Corner | Media Blog | Frum's Diary | Mark Levin | Sixers
• The Party's Problem
• The Right isn't waving a white flag.
• Is Demography Destiny?

• Obama's Smug America
• Boom, Boom, Boom, Boom
• Does Obama Doom America?



• What Military Spouses Know About Infidelity
• How Texas Could Mess With Us
• When Benedict Arnold Swore To Be True
• WH Refers Scandal Questions to Other Agencies 10 Times in 10 Minutes
• How Long Does It Take to Tell a President His CIA Director is Under Investigation?
• Obama 'Does Not Believe That Reducing Deficits and Debt Are Values Unto Themselves'
• Obama Says He's 'Open to Compromise,' As Long As the Wealthy Are Taxed More



• Huckabee to Newsmax: 'Absolute Certainty' of a White House Cover-up on Benghazi

• 'No Coincidence' Lincoln Film Debuts After Obama Re-Election
• ABC Hypes Latest Global Warming Disaster: The End of Coffee
• NBC Works on 'Connecting the Dots' Between Sandy and Global Warming
• Thousands of passengers hit by flight chaos across Europe as anti-austerity day of action is marred by riots and violence
• Woman died from blood poisoning after Irish medics refused to perform an abortion because she was in 'a Catholic country'
• Half in U.S. expect fall over fiscal cliff
• Michelle Obama requests, receives 'Downton' sneak peek
• U.S. called on to end Cuban embargo


• Hamas: killing of military chief by Israel has 'opened gates of hell' live updates
• SODASTREAM CEO: Coke And Pepsi's Business Model Is 'Insane'
• Papa Johns' Customers Say They Got Harassed In The Middle Of The Night