• How the Obama Revolution Could Hurt Hillary Clinton
• The Myth of the Undecided Voter – Frank Luntz
• Russia's Pattern of Influencing Foreign Politics
• How Other Nations Stop US From Deporting Criminal Illegal Immigrants
• You Could Pay More to Fly Under This EPA Climate Change Rule
• Planned Parenthood Uses Virtual Reality to Promote Abortion at Democrat Convention
• If the Obama Administration Adopts a 'No First Use' Nuclear Strategy, It Could Cripple US Security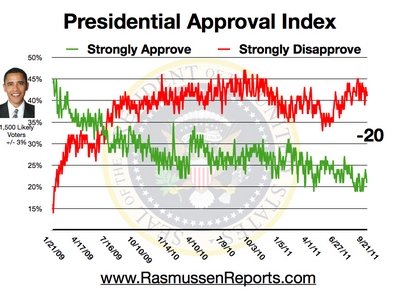 • Presidential Approval Index Tracking Poll
• 28% Have Switched Presidential Choice Since January 1
• White House Watch: Clinton 43%, Trump 42%
• Beltway Confidential
• Has President Obama's Act Worn Thin? – Byron York
• Does Joe Biden regret sitting out 2016?

• More Shady White House Ties Found In DNC Emails
• Krauthammer: Trump 'Set A Trap That The Clinton Campaign Fell Right Into'
• Huge 'Election Fraud, #Wikileaks' Banner Unfurled As Kaine Takes Stage
• No Philadelphia Colleges Offer 'Safe Space' For Students Traumatized By Democratic Convention
• Page Six
• Democrats' War on the Sharing Economy – Betsy McCaughey


• Asia Times: Obama Aide's China Visit Was to Ease Tension Over Sea Ruling
• Protesters Interrupt Politico Energy Discussion With Dem Governors
• Dems Unified in Bashing Donald Trump
• Left-Wing Billionaire Won't Rule Out Spending $200 Million During Election Cycle
• Study: Dems' $15 Wage Would Kill 7 Million Jobs
• Black Philadelphians Gather to Learn About Gun Rights as DNC Rolls Into Town
• Pelosi: Say, those white males are homophobic gun nuts, eh?
• We should really talk about Bill de Blasio's surreal speech at the #DNC
• Dem convention, night three: Who's up for 45 minutes of "that's not who we are"?

• The Note
• Clinton Ready to Sell Herself in Biggest Political Moment
• Obama Vouches for Clinton, Kaine Steps Up
• Trump to Russia: Uncover, Release Deleted Clinton Emails
• Democratic Donors, Allies Offer Reward for Trump Tax Returns
"I must be honest. I can only read so many paragraphs of a New York Times story before I puke." -Rush Limbaugh
• President Labels Trump a Threat to American Values
• Deep-Pocketed Clinton Donors Return to the Fore
• Clinton's Convention Is for TV. Trump's Is for Twitter.
• Trump's Appeal to Russia Shocks Experts
• Obama passes baton to Clinton at DNC
• WikiLeaks releases hacked DNC voicemails
• Hillary Clinton yet to make good on promise to go carbon-neutral
• Nancy Pelosi: Hillary Clinton struggles with white men because of 'God,' 'guns,' and 'gays'
• Facebook Test Flies Unmanned Aircraft That Could Provide Internet
• Former Mayor Michael Bloomberg blasts 'demagogue' Donald Trump during DNC speech
• Twitter reacts to third night of DNC with a flurry of Kaine jokes and heaps of praise for Obama, Biden

• The Briefing Room
• Clinton at risk of being upstaged
• Trump: Putin's 'doing a better job' than Obama
• WikiLeaks release includes hacked DNC voicemails

• 5 takeaways from Obama's last convention
• Can Clinton meet the moment?
• DNC insiders detail months of escalating dysfunction
• Democrats skewer Trump
• Biden on Clinton vs. Trump: 'I don't think it's going to be close'
• Koskinen: IRS vetting GOP complaints about Clinton Foundation
• Today's Standard
• DNC Speaker Shouts Her Abortion and the Crowd Cheers

• Analysis: Clinton has one big edge on Trump: Her supporting cast is stronger
• What political revolution? Inside the parties for lawmakers and special interests at the Democratic convention
• DNC Day Three: Obama argues 'America is already great, America is already strong'



• Obama passes baton to Clinton, imploring nation to elect her
• Merkel: Germany 'will manage' challenge after attacks
• Analysis: Obama hopes Clinton can fix what he could not
• AP FACT CHECK: Many claims, some warped



• Mistrust of Clinton on trade shadows her at Democratic convention
• Obama asks US voters to 'carry' Clinton to White House, defeat Trump
• US jobless claims increase; labor market still strong
• WikiLeaks releases hacked Democratic National Committee audio files
• China to hold drills with Russia in South China Sea



• Post Politics Blog


• Trump again proves he's the chaos candidate
• Obama endorses Clinton: 'She will finish the job'
• At the Democratic convention, women seize their moment
• Clinton has now made Democrats the anti-Russia party


• 'America is already great': Barack Obama urges US to back Clinton in last big speech
• Emotional Obama bids long goodbye and passes baton of hope to Clinton
• Obama delivers passionate endorsement of Clinton at the DNC
• Americans Offer Solutions for Problem of Deadly Shootings
• Less Than Half in U.S. OK With Treatment of Immigrants, Arabs
• The Democrats Become the Party of Values
• Greenspan 'Nervous' Bond Prices Too High as Treasuries Sell Off
• The Independent's Case for Clinton – Michael R. Bloomberg
• DNC Protester Sets Himself on Fire Trying to Torch US Flag
• After Wave of Islamic Attacks Merkel Vows to Welcome More Third World Refugees
• Obama to Take October Off to Campaign for Hillary All Month
• Red Francis Still Clueless About ISIS Says Jihadi War is About "Money and Resources" That's Nuts
• Democrat Protesters Wave "No TPP" Signs as VP Nominee Tim Kaine Takes Stage at DNC
• PROTESTERS BREAK THROUGH DNC BORDER FENCE Throw Coffin at Police
INVESTOR'S BUSINESS DAILY
• Political News & Commentary: Andrew Malcolm
• If You Liked Obamanomics, You'll Love Hillarynomics
• DNC Email Scandal: Media Peddle A Dubious Russia Conspiracy Story
• WikiLeaks Just Released a Whole Batch of DNC Voicemails
• Joe Biden Tears Into Trump at DNC: 'This Guy Doesn't Have a Clue!'
• Democrats Chant 'No More War!' During Ex-CIA Head Panetta's DNC Speech
• Beauty Queen Sentenced to Prison After Shaving Head, Faking Cancer
• Watch: Hillary commissions her own climate disaster movie with Cameron, Schwarzenegger, & Sigourney Weaver
• Dinesh D'Souza's 'Hillary's America' is Top-Grossing Documentary of 2016
• Sigourney Weaver: Hillary Understands 'Moral Obligation' of Tackling Climate Change
• James Cameron Releases Pro-Hillary Climate Change Disaster Movie
• 'Butler' Director Lee Daniels Inflates 'Gun Violence' Numbers By 66% in DNC Gun Control Plea
• Broadway Stars Lead Tribute to Gun Victims at DNC
• Democrats Hope Convention Star Power Dazzles America Into Voting Hillary
• Obama Tramples Trump's 'Philosophy'
• Biden Comes Out Swinging In Last Big Political Speech

• RCP Blog
• Real Clear Markets
• Upbeat Obama Touts Clinton's Experience, Grit – Alexis Simendinger
• Kaine Makes Case for Putting Trust in Clinton -Caitlin Huey-Burns
• Yiannopoulos: Trump Brilliant Because He Got Press Calling Clinton Emails A National Security Issue
• OK, Hillary, Have Fun Defending Obama's Record
WALL STREET JOURNAL: OPINION JOURNAL
• Best of the Web (James Taranto)
• The Democratic Bash Won't Matter – Karl Rove
• The Other Clinton "Change"



• Blogs: The Corner | Media Blog | Frum's Diary | Mark Levin | Sixers
• Hillary's Single Legislative Success: Renaming a Building in NYC
• Katie McGinty's Controversial Past
• When a War Went Worldwide 75 Years Ago
• Nobles without Nobility

• Donald Trump: The Conservative FDR



• NBC to Chelsea: Aren't 'Darkest Moments' of Clinton Past Off Limits?
• Kumbayah: Gay Activist Says 'Diversity' Proper Response to Orlando
• Mitchell Thinks Obama Is the Best President at Speeches Since Lincoln
• Matthews, Williams on 'Wonderful' Obama: 'Will Not See His Kind Again'
• Nets Gush: 'Preacher' Obama 'at His Best,' 'a Chorus of Amens'
• Obama Administration Expands 'Resettlement' For Unaccompanied Alien Children
• Trump: 'You Never Want to Do Anything to Unite Russia and China. Well, They're United Now'
• Biden: "How Can There Be Pleasure in Saying, 'You're Fired!'"
• Report Published Last Month Claimed Russia Might Release Hacked Clinton Emails
• 'Homegrown Demagogues': Obama Accuses Trump of Threatening American Values



• FBI Chief: 'Terrorist Diaspora' Coming to America
• Ex-CIA Chiefs Hayden, Panetta Blast Trump's Remarks Inviting Russians to Hack Clinton
• Turkish Authorities Dismiss 1,700 Military Personnel, Shut 130 Media Outlets
• Democratic Donors, Allies Offer Reward for Trump Tax Returns

• Allen West: 'Michael Brown Was a Thug'
• Report: Anti-Semitism Spikes on College Campuses
• BLM Protest: 'White People to the Back! Black People to the Front!'
• Obama Says to Delegates Booing Trump: 'Don't Boo Vote'
• Hillary commissions her own disaster movie to issue an ominous warning about global warming
• Now hold your own press conference Hillary says Trump in bid to shame her 235 day silence
• Tourists in France 'to get armed guards' as backpacks banned from beaches amid bomb fears
• DNC crowd goes wild as Barack Obama and Hillary Clinton hug it out on stage