• Trump Loses Late-Night TV. In a wild election with a ripe orange target, comics are ditching balance and taking sides
• The Numbers That Show Planned Parenthood About Abortion, Not Women's Health
• House Judiciary Committee to Hold Impeachment Proceedings for IRS Commissioner
• How Hispanics, Blacks Have Fared in Obama Economy
• The Shocking State of Americans' Civic Illiteracy
• How Washington Has Hurt Native Americans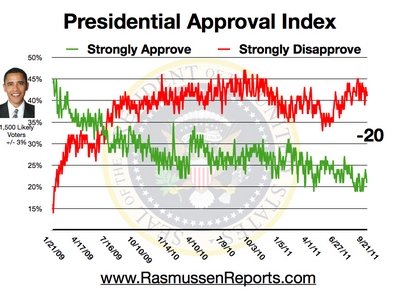 • Presidential Approval Index Tracking Poll
• White House Watch: Trump 42%, Clinton 40%, Johnson 7%, Stein 2%
• Most Reject Online Voting, See Higher Risk of Fraud
• Beltway Confidential
• How Obama's legacy could be tarnished by Hillary's scandals
• Washington's monopoly policy
• The Clinton health update
• Claims That Trump's Voters Are Racists Are BS. Here's Why
• Is Clinton as bad as Trump on his worst issues?

• Hillary's Poll Numbers Just TANKED In One Of America's Most Liberal Cities
• Berkeley Student Mob Shuts Down Pro-Trump Demonstration
• Michigan Board Of Ed To Public Schools: Let Students Pick Name, Gender And Bathroom
• Emails Undercut Pro-Hillary Journo's Claims About Powell-Clinton Dinner Party
• Page Six
• New York's AG Should Run for Governor or Quit His Politicking


• Expert: IRS Audits Disproportionately Target Small Businesses
• Disgraced Teacher Linked to Hassan Purged From Board
• CNN Host Defends Clinton When Cuomo Calls Trump a 'Machine' Compared to Her
• Feds to Spend $4.6 Million to Give 'Emotional Wellness' to Refugees
• NBC Expert: Clinton Was 'Really Sick For A While'
• Internet Group ICANN Boosted Member Who Transferred U.S. Technology to Iran
• Fighting International Isolation, Taiwan Seeks Admission to Aviation Forum
• Ford confirms shift of Focus manufacturing to Mexico
• Dems looking to abandon Hillary's "deplorables" line or embrace it?

• The Note
• Hillary Returns to Campaign Trail Amid More Scrutiny About Her Health
• Hillary Clinton, Donald Trump in Tight Race: New Poll
• Trump Favors Wider Access to Birth Control
• Rubio Calls For Suspension of Cuba Flights Over Lack of Air Marshals
"I must be honest. I can only read so many paragraphs of a New York Times story before I puke." -Rush Limbaugh
• Clinton and Trump Locked in Tight Race, New Poll Shows
• Surging Income? Not in Large Swaths of the Country
• Donald Trump Gets Cool Reception at Black Church in Flint, Mich.
• Hillary Clinton and Donald Trump Give More Details on Their Health
• Doctor declares Clinton 'healthy and fit' as medical issues infect campaign
• Hillary Clinton's secrecy fuels conspiracy theories
• Donald Trump, Hillary Clinton tied in four-way race: poll
• Clintons hate 'that man' Obama, Democratic donor tells Colin Powell in email exchange
• Wearable Camera Lets You 'Go Back in Time' to Record Fleeting Moments
• Donald Trump disses black female pastor who hosted him in Flint
• Donald Trump can now officially be called 'Fat Donald'

• The Briefing Room
• Dems grasp for election lifeline
• Hillary Clinton faces dilemma following 'deplorables' remark
• Saudis wait for Obama's exit

• Why Florida is still in play for Trump
• Bill Clinton is no longer the closer
• GOP hopes of keeping Senate brighten with Trump
• Huckabee: Clinton health 'cover-up' like Nixon
• Trump Jr.: Releasing tax returns 'would detract' from message
• Trump and Clinton offer peek into medical files
• Today's Standard
• A Basketcase of Deplorables

• Donald Trump's lead widens in USC/LA Times tracking poll, which points to likely turnout as key shift
• Hillary Clinton returns to the campaign trail after bout with pneumonia
• The complicated immigration history of Melania Trump: Tourist visas, then work visas



• Clinton back on campaign trail after releasing health info
• Trump favors wider access to birth control
• Obama creates first marine national monument in Atlantic
• US stocks move higher as Apple pulls tech companies up again



• Nearly half of Americans 'very concerned' about Clinton emails: Reuters/Ipsos poll
• Donald Trump is a problem for the whole world, EU's Schulz says
• Clinton returns to campaign trail after pneumonia bout
• Obama administration targets corporate offshore tax avoidance
• Senate committee to consider nominees for derivatives regulator



• Post Politics Blog


• Despite gestures, Trump still least transparent presidential candidate in US history
• Trump releases letter from his doctor, saying he takes cholesterol-lowering drug, is overweight
• Trump has all the momentum in national and key swing state polls
• Obama asks the right question on Trump: 'Huh?'


• The Syrian cease-fire could have a victor the US didn't intend
• GOP Losing Ground as Better Party to Handle Foreign Threats
• Americans' Trust in Mass Media Sinks to New Low
• Warren: Next Administration Should Probe, Maybe Jail Wall Street Bankers
• One Nation Divisible
• Trump Jabs Hillary's Stamina at Massive Ohio Rally
• Mexico Announces Plans for GREAT WALL on Southern Border with Central America
• NY Senator Schumer: Goal of Hillary Administration Is Loading Supreme Court with Progressive Judges
• House GOP Fold! Will Not Hold Impeachment Vote on Crooked IRS Chief
INVESTOR'S BUSINESS DAILY
• Political News & Commentary: Andrew Malcolm
• Obama Funded Terrorism With His $1.7 Bil Ransom To Iran
• Is Obama Pushing Another Illegal ObamaCare Insurance Bailout?
• Ivanka Cuts Interview Short, Calls It Negative After Father's Quotes on Women Are Read
• Donald Trump Calls Out Colin Powell's 'Weak Understanding' After Leaked Email Fiasco
• Former French Prez Sarkozy comes out of the closet as a climate skeptic! 'Climate has been changing for four billion years'
• Jay Leno: Trump Needs To Have The Crap Beaten Out Of Him
• Jeffrey Katzenberg: Hillary Health Concerns 'Minor and Irrelevant'
• Jon Voight: There Is No Place Donald Trump Can't Win if He Stays 'Focused'
• 'Snowden' Star: He Did a 'Really Positive Thing' for America
• Oliver Stone: Intel Experts Tell Me DNC Hack Was 'Inside Job'
• Trump and Clinton Tied in Latest Poll
• Why It's Impossible for Democrats to Win the House

• RCP Blog
• Real Clear Markets
• Prized–& Changing–Battleground NC Is Up for Grabs – Rebecca Berg
• Party Identification Shift May Hobble Trump
• Republicans Bullish on Senate Majority, But Dems Upbeat Too
• Black Pastor Asks Trump To Stop Attacking Hillary Clinton During Visit To Flint
• Donald Trump Releases Medical Report On 'Dr. Oz' Show
• Trump in Flint: It Used To Be That We Built Cars In Michigan And Didn't Drink Water In Mexico, Now It's The Opposite
• Never-Trumpers vs. Reluctant Trumpers
WALL STREET JOURNAL: OPINION JOURNAL
• Best of the Web (James Taranto)
• Les Deplorables – Daniel Henninger
• Hard Truths for Trump's America – William Galston
• A Liberal 'Gets' Religion – William McGurn



• Blogs: The Corner | Media Blog | Frum's Diary | Mark Levin | Sixers
• The High Court Declines to Stay Ohio Early Voting and Same-Day Registration Case
• The Open-Borders 'Liberaltarianism' of the New Urban Elite
• The Legacies of Barack Obama
• William Weld's Wishful Thinking

• Networks Cheer 'Great' Census News, After Downplaying Econ Weakness
• On CNN, PolitiFact Claims 'Not Right' to Say Clinton 'Broke the Law'
• Amanda Marcotte: For the Right, Hillary's Health Is the New Birtherism
• Cynical NYT Hits Trump's 'Minuscule' Maternity Leave Plan from Left
• Obama Will Set Aside 5,000 Square Miles Off New England–Ban Commercial Fishing
• German Authorities Push for Increased Surveillance of Refugees, After Raids Net Three Terror Suspects
• Islamic Bloc Welcomes UN Official's Focus on 'Dangerous Xenophobes and Bigots Running for Office'
• Four Studies Find 'No Observable Sea-Level Effect' From Man-Made Global Warming
• Dems Push for Obamacare for Illegal Aliens in California: 'Health Care Is a Human Right'
• White House Goal: 40,000 Additional Refugees from Near East, South Asia
• Kerry: Residents of Martha's Vineyard 'Appreciate Everything We're Here to Protect in Terms of the Ocean'



• Trump: If Elected 'I Would Have Nothing to Do With My Company'
• GOP Deal Delays Vote on Impeaching IRS Chief
• Harvard Study: Americans Blame Washington Gridlock for Slow Economic Growth
• Stephen Moore: Want Prosperity? Follow the Red State Model

• 'HB2' Law Prompts NCAA, ACC to Move Championship Events Out of N.C.
• US Admits More Refugees From Muslim Nations Than Any Other Religion
• Americans' Trust in Mass Media Reaches All-Time-Low, Poll Shows
• Obama: 'Imagine What My Approval Rating Would Be' if Media 'Worked for Me'
• Trump and Clinton in a dead heat among likely voters in new poll
• Donald Trump calls Colin Powell 'weak' and a 'disaster' after the retired four-star general labels him 'racist' and a 'national disgrace'
• Hillary Clinton releases updated health information and declared 'fit to serve' as president according to doctor's letter
• George Bush is back. He's here to save the Republicans from Donald Trump


• Ohio center stage as Trump takes five-point lead in key state
• Climate change and the Marshall Islands: lives in the balance