• Everything We Know About the Charlotte Police Shooting
• Jimmy Fallon's Softball Interviews With Donald Trump and Hillary Clinton Aren't Good TV
• Obama Should Not Put Free Speech at Risk on Internet By Giving Up US Oversight
• New York Bombing May Be Another Terrorist Attack Inspired by al-Qaeda's Anwar al-Awlaki
• What's at Stake in the Next Supreme Court Term
• Inspired Attacks Show Strength of Islamic State, Experts Say
• Amid Fetal Tissue Investigation, Republicans Seek Legal Action Against StemExpress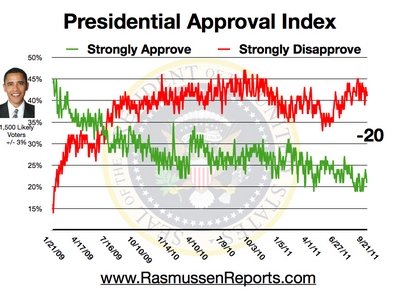 • Presidential Approval Index Tracking Poll
• Americans Think Government Should Protect Businesses More
• Voters Say No to Obamacare Health Insurance for Illegal Immigrants
• Beltway Confidential
• Will Democratic Success Breed Clinton's Failure? – Michael Barone
• At the birth of birtherism
• Obama bestrides the narrow world

• Charlotte Citizens Riot After Police Shooting
• Zero Syrian Refugees Sent To Pelosi's District While She Blames Republicans For 'Slamming The Door'
• Hillary's Campaign Manager Fails To Answer Basic Questions About Syria
• ThinkProgress: Manhunt For Manhattan Bomber Was, You Guessed It, Racist
• Page Six
• Only One Candidate Has a Plan For a Booming Economy – Betsy McCaughey
• Hillary's Coverup: Bombshell Emails From Her IT Geeks


• Bill Clinton Falsely Claims Foundation Discloses All Info on Donors, Activities
• NIH Won't Say How Much It's Spending on Two 'Elegant' Bicycle Shelters
• Morning Joe: Obama's U.N. Speech a 'Disappointment' Reflecting 'Retreat' of American Leadership
• Lawmakers Worry About Chinese, Russian Companies Buying U.S. Businesses
• State Department Defends Clinton Appointing Foundation Donors: We Look for 'Diverse Backgrounds'
• Dem Donor Pulled in $270M in Government Contracts Under Obama
• Seattle Passes Tough Scheduling Regulations
• Video: Debate audience bursts into laughter when congressional candidate claims Hillary is 'honest'
• Hillary spent 68% of campaign cash on ads and still can't close the deal
• Several years in, Obamacare isn't as bad as you thought it's worse
• Obama plans "unprecedented" campaign to drag bumbling loser over the finish line

• The Note
• Violent Protests Erupt in Charlotte After Deadly Police Shooting
• NYC Explosion: Buying Bomb Parts Through eBay
• Trump Calls for Unity After Shootings
• How Smugglers Get Drugs and Other Contraband Over the Border
"I must be honest. I can only read so many paragraphs of a New York Times story before I puke." -Rush Limbaugh
• Protests Erupt in Charlotte After Police Kill a Black Man
• Bombing Case Points to Gaps in Rivals' Antiterrorism Plans
• Donald Trump Jr.'s Skittles Post on Twitter Fits a Pattern
• Clinton cash from fossil fuels sector raises doubts among green groups
• Protesters of Charlotte police shooting injure officers, shut highway
• House investigating Reddit post tied to IT expert who deleted Clinton emails
• Properly screening immigrants from terror-plagued countries is common sense
• DARPA's 'Aerial Dragnet' Will Monitor Drones in Cities
• Trump campaign still paying Corey Lewandowski for consulting
• Republicans demand Ahmad Rahami should be labeled 'enemy combatant,' but critics slam idea as 'absurd'

• The Briefing Room
• Clinton air war fails to sink Trump
• Clinton preps for multiple Trumps
• Clinton campaign manager avoids Syria questions in 'Morning Joe'

• Clinton Foundation to lay off dozens of staff
• Democrats' debate advice to Clinton: Let Trump screw up
• Clinton's campaign manager tangles with 'Morning Joe' hosts
• Sheriff Arpaio on Obama birth certificate: 'I'm not going to give up'
• Obama ditches diplomacy, attacks Trump at UN
• Pence calls outrage over Trump Jr.'s Skittles tweet 'remarkable'
• Today's Standard
• Lawmakers: Obama White House Did Not Disclose Iran Wire Payments

• The Trump campaign uses gender to try to undercut Clinton's candidacy
• Hillary Clinton's campaign: We have many more paths to victory than Donald Trump does
• Clinton acknowledges that some voters' dislike of Trump isn't enough for her to count on their votes



• Bomb suspect vowed 'death to your oppression,' feds say
• Clinton campaign raced through $50 million last month
• Police chief: Officers warned black man to drop gun
• Obama, Netanyahu meeting a capstone to years of testy ties



• Trump scores with small money, lags with big donors
• Clinton calls national security team after attacks, as Trump challenges her credentials
• White House presses Congress on bill allowing 9/11 families to sue Saudi Arabia
• Bid to block US arms sale to Saudis faces tough opposition
• Senators want to change massive new Israel aid package



• Post Politics Blog


• For Clinton, attacking Trump may not be enough
• Violent protests erupt in Charlotte after police fatally shoot black man
• Obama has the right ideas for fixing our broken world four years too late
• This is why Donald Trump's tax returns haven't been leaked


• Protests erupt in Charlotte after police fatally shoot black man they say was armed
• Billions Worldwide Help Others in Need
• Americans Continue to Want Political Leaders to Compromise
• Why Canadians Are Being Offered Cash to Abandon Their Homes
• One Nation Divisible. The American electorate.
• Hillary Clinton Cancels Fundraiser in North Carolina with No Explanation
• Nate Silver: Trump Surges 45 Points in One Month! Now Has 48% Chance of Winning
• Charlotte Race Protesters Loot Walmart of Flat Screen TVs and iPads
• What's Wrong with Hillary Clinton? More Cross-Eyed Hillary Photos Surface
• Obama Slams Trump's Wall in Final UN Speech But Paid $75 Million to Build Mexico's Wall
INVESTOR'S BUSINESS DAILY
• Political News & Commentary: Andrew Malcolm
• Did The Clinton Foundation Save Lives, Or Cost Them?
• Left's Willful Blindness To Terrorism Endangers Us All
• CNN Graphic Added 'Racial' in Quotes to Trump's Comment on Profiling
• Don King Drops the N-Word When Introducing Donald Trump at Black Church
• WaPo: 'A vote for Trump is a vote for climate catastrophe' Trump 'is a bald-faced denier'
• Megyn Kelly to Produce Comedy Series about Campaign Trail Journalists
• Tim Kaine Guarantees Hillary Victory at Hollywood Fundraiser
• Michelle Obama Hits Broadway For Global Girls Education Initiative
• Davi: Trump the 'One Candidate Who Can Save the Republic' from Last 40 Years of Ruin
• Bono, Bon Jovi Help Bill Bid Farewell to Clinton Global Initiative
• NYC Bomb Suspect Ahmad Rahami 'Praised bin Laden'
• Donald Trump Can Legally Run His Company From the Oval Office

• RCP Blog
• Real Clear Markets
• How Energy & Conservation Became Partisan Issues – Carl Cannon
• Trump: Black Communities Are In The Worst Shape They've Ever Been In, "Ever, Ever, Ever"
• Trump: "Hillary Clinton Is The Vessel For All The Global Special Interests" That Want To Run Our Lives
• Political Correctness Doesn't Only Threaten Speech
WALL STREET JOURNAL: OPINION JOURNAL
• Best of the Web (James Taranto)
• It's Still Clinton's Race to Lose – William Galston
• The Reasons Behind the Obama Non-Recovery – Robert Barro
• Obama's Track Record With Blacks Won't Help Clinton – Jason Riley
• President Obama's Last Lecture



• Blogs: The Corner | Media Blog | Frum's Diary | Mark Levin | Sixers
• The Left's Hypocrisy Shines Brightest after Terrorist Attacks
• Christie's Bridgegate Maelstrom
• Obama's Trolling Helped Give Rise to Trump
• The New York Times's Fact-Free Smear Job on Scott Walker
• Why Hillary Should Be Nervous About the Debate
• When It Comes to Syrian Refugees, Who Really Lacks Compassion?

• Hillary's Submission to Militant Muslims
• What's in Your Wallet? One candidate wants you to keep it. The other has set her sights on it



• Fusion: Trump Porn, Sex Toys Send 'Strong Political Message'
• Clinton Camp Pushed Birtherism; AP Claims It's Still Trump's Problem
• John Heilemann: Trump's Foundation 'Way More Corrupt' than Clinton's
• Somehow, Matthews Is Still Mad Romney Beat Obama in First 2012 Debate
• CNN Uses Fuzzy Math to Slam 'BS' of Trump Jr. 'Dehumanizing' Refugees
• Nets Ignore Congressional Democrats' Push for Public ObamaCare Option
• Reid: 'We're Not Going to Have a CR Loaded With Riders. One Is Too Many'
• McCarthy on Not Giving Zika Funds to Planned Parenthood in CR: 'We'll Wait and See What The Language Is'
• 80% Democrats, 43% Republicans Have Favorable View of U.N.
• Democratic Lawmakers Ask Dept. of Veterans Affairs to Cover Sex-Change Surgery



• Bomb Suspect: 'Death to Your Oppression'
• Rep. McCaul: Need to Look at FBI '14 Probe Into Bombing Suspect
• Gun 'Super Owners': Half of US Firearms in Hands of Few
• Stephen Moore: Obama's False Victory Lap on Income

• Reality Check: When Obama Can't Blame Terrorism On Guns
• The Washington Post's Astounding and Dangerous Snowden Hypocrisy
• Former Fla. Gov. Crist Calls Hillary 'Honest,' Crowd Laughs and Boos
• Father of Suspect in NY, NJ Bombings Says He Reported Son to FBI Years Ago
• Trump mocks Clinton for 'taking the day off again' as she quits trail to prepare for next week's clash
• Amal Clooney attacks Britain over refugee crisis and says the country should be taking more immigrants from Syria
• 'No sign of Brexit collapse' – why has the OECD done such a U-turn on its economic predictions?
• Donald Trump and Hillary Clinton clash over terror attack: How will the New York bombings affect the US election?


• Protesters clash with police in Charlotte after fatal shooting of Keith Scott
• Trump's plan to seize Iraq's oil: 'It's not stealing, we're reimbursing ourselves'