• The Presidential Debate Was a Battle of the Sexes
• This Plan for Streamlining Oversight Would Enhance Homeland Security
• Hundreds of Noncitizens on Voting Rolls in Swing State of Virginia
• House Debates Protections for Babies Born Alive After Attempted Abortions
• How One Police Department Is Trying to Prevent Violence Between Officers and Citizens
• The So-Called 'Wage Gap' Is Going Down. And the Numbers Don't Tell the Full Story.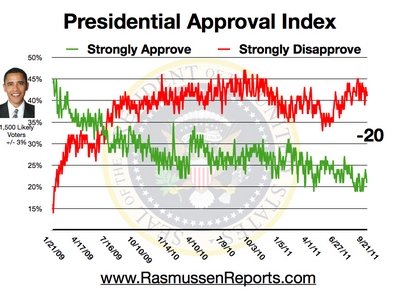 • Presidential Approval Index Tracking Poll
• And The Winner Is
• Voters See Debate Moderators Giving Clinton A Helping Hand
• Beltway Confidential
• Donald Trump's Missed Opportunities – Byron York
• Trump Wins Most Immediate Polls

• Donald Trump And Hillary Clinton Spar — And Get Personal — In First Presidential Debate
• Prominent Clinton Surrogate Wonders Whether Trump Uses Cocaine
• Michael Moore Says Trump 'Won' The Debate
• Hillary Clinton: The Entire Country Is Suffering From From Implicit Racial Bias
• Page Six
• Trump's debate incompetence a slap in the face to his supporters
• Round One a Draw–and That's Bad News for Hillary Clinton


• Federal Judge Tosses Union Wisconsin Right to Work Challenge
• Feds Spend $149,921 for
LGBT Students to 'Feel Comfortable' in Engineering Class
• Podesta Falsely Claims Clinton Campaign Didn't Complain About Matt Lauer's Moderator Performance
• BlueCross BlueShield Drops Obamacare Coverage in 3 Tennessee Markets
• 8.1 Million Taxpayers Paid $1.7 Billion in Obamacare Penalties in 2014
• FBI: Murder in America Up Nearly 10%, at 5-Year High
• So Jill Stein was booted off of Hofstra University campus yesterday
• A debate filled with missed opportunities and low level intrigue
• Lester Holt learned the 'Matt Lauer Lesson'

• The Note
• Clinton Baits Trump Into Fight, and He More Than Counters
• Donald Trump and the Perils of Little Preparation
• Why Hillary Clinton Deleted 33,000 Emails
• Mike Pence Says Trump 'Took Command of the Stage' in Debate
"I must be honest. I can only read so many paragraphs of a New York Times story before I puke." -Rush Limbaugh
• Trump and Clinton Clash on Jobs, Race and Temperament NYT Now
• Candidates Paint Starkly Different Visions for US
• The Morning After the Debate, Donald Trump Goes on the Attack
• A Subdued Donald Trump Showed a Side We Rarely See
• Policy takes back seat in chippy debate
• Donald Trump: I didn't want to bring up Bill Clinton's 'many affairs' at debate
• Presidential campaign schedules show plans for battleground states
• FBI reports increase in homicides, violent crimes
• New 'Artificial Synapses' Pave Way for Brain-Like Computers
• Donald Trump gets the facts about stop-and-frisk completely wrong in presidential debate
• Donald Trump groans, rants in clash with Hillary Clinton over taxes, economy, race in first presidential debate

• The Briefing Room
• Debate of century lives up to its billing
• State Dept misses court's deadline on Clinton docs
• Trump's 2012 climate change tweet was debate's most retweeted

• 5 takeaways from the first presidential debate
• Donald Trump's Wild Night
• Insiders: Hillary won
• Trump presses Clinton on growth of ISIS
• Clinton team celebrates a win
• Deal nears to speed release of Hillary Clinton emails
• Today's Standard
• Trump Beats Expectations

• Trump flinched under Clinton's criticism, but this race is not over
• Debate fact-checks after a night that did not disappoint
• Campaign 2016 updates: The morning after the first debate



• Analysis: In debate, Clinton was prepared, Trump was Trump
• AP Fact Check: Trump, Clinton deny their own words in debate
• Trump on the defensive after combative debate with Clinton
• Democrats press talks as showdown vote looms on funding bill



• In first face-off with Clinton, Trump struggles
• Clinton gains in online betting markets after US presidential debate
• Trump's debate sniffs take off on social media
• Reuters/Ipsos States of the Nation: Clinton leads in Florida



• Post Politics Blog


• Trump says he may 'hit her harder' in next debate
• Clinton put GOP nominee on defense in first encounter
• What worked for Trump in the primaries failed him against Clinton
• Donald Trump bombs on the ultimate reality TV show


• Clinton stays calm while Trump loses cool during first presidential debate
• 'Clinton weaponized Trump's words': the reaction to the presidential debate
• Voters Prefer Trump on Economy, Clinton on Most Other Issues
• Americans Less Sure They'll Vote for President
• Trump Allies Move to Stem Damage From Strong Clinton Debate
• Trump Takes the Bait and Hooks Himself
• Neil Cavuto Just Busted MSM Plays 2003 Interview with Trump Against Iraq War
• NBC Crank Lester Holt Interrupted Trump 41 times, Hillary 7 Times And Lied About His Positions
• Illegal Alien Shoplifting Ring Busted in Chesterfield, Missouri
INVESTOR'S BUSINESS DAILY
• Political News & Commentary: Andrew Malcolm
• Obamacare's Death Spiral Has Begun – Luke Hilgemann
• Violent Crime Surge Is Tragic Proof "Ferguson Effect" Is Real
• The 'Thanks a Lot, Bitch' Heard 'Round the World: Reporter Scolds Colleague at Debate
• Fox's Brit Hume: Clinton Looked 'Composed' in Debate, But 'Not Necessarily Attractive'
• Giuliani: If I Were Trump, I'd Skip Future Debates; Holt 'Should Be Ashamed' for Stop-and-Frisk Intervention
• Scientists rebut 'consensus claims': 'Only 0.3% of 12,000 papers published in journals claimed recent warming was mostly manmade'
• Zach Galifianakis Won't Interview 'Mentally Challenged' Trump on 'Between Two Ferns'
• 'Modern Family' to Feature TV's First Transgender Child Actor
• Fox Searchlight to Register Voters at Movie Theaters Before 'Birth of a Nation' Screenings
• MTV Brings Back 'TRL' for Millennial Voter Registration Drive
• No Country for Old Christians? Phil Robertson Crushes It in 'Torchbearer' Film
• Obama, DiCaprio to Discuss Ending Climate Change at White House
• Donald Trump Comes Up Small on His Biggest Stage Yet
• US Was Warned of Attack on Aid Workers in Syria

• RCP Blog
• Real Clear Markets
• Clinton Dominated Debate, Pa. Focus Group Says – Rebecca Berg
• Which Candidate Helped His or Her Cause Most? Charles Lipson
• Full Replay: First Presidential Debate: Hillary Clinton vs. Donald Trump
• Clinton and Obama, First Heal Yourselves on Race
WALL STREET JOURNAL: OPINION JOURNAL
• Best of the Web (James Taranto)
• The Secrets of Cheryl Mills – William McGurn
• An Underwhelming Debate



• Blogs: The Corner | Media Blog | Frum's Diary | Mark Levin | Sixers
• Charlotte Shooting Facts Support the Police – Rich Lowry
• It Depends on the Scorecard
• If This Night Doesn't Save Hillary's Campaign, Nothing Will
• Riot First, Ask Questions Later
• The Lasting Damage of the Left's 'Favors' to Blacks

• President Obama's Big Government Legacy and the Republicans
• Did Barack Obama Vote Communist in 1980?



• MRC's Bozell: Trump Should 'Raise Hell' Over Holt Not Hitting Hillary
• CNN Spends the First 30 Minutes After Debate Critiquing Trump
• Nets Boost 'Pleasant' Hillary, Trash 'Condescending,' 'Rude' Trump
• CNN Spends the First 30 Minutes After Debate Critiquing Trump
• Liberal Holt and Hillary Tag Team Trump; E-Mails Barely Mentioned
• Hillary Demands 'Fact-Checkers' to 'Get to Work' on Trump
• Clinton: 'Smart, Wealthy People' Want to Pay Higher Taxes to Rebuild Middle Class
• Trump: 'Hillary Has Experience, But It's Bad Experience'
• Trump: 'It's About Time That This Country Had Somebody Running It That Has an Idea About Money'
• Trump: 'I Will Release My Tax Returns When She Releases Her 33,000 E-mails That Have Been Deleted'
• Clinton Jobs Plan: 'Deploy a Half a Billion More Solar Panels'
• Trump Jobs Plan: 'I'll Be Reducing Taxes Tremendously'
• Congress To DHS on Syrian Refugees: Obama Ignoring His Own National Security Experts About Vetting Terrorists



• Trump on Debate: I Did Well; Holt Asked Some 'Hostile Questions'
• PPP Post-Debate Survey Puts Clinton Ahead
• Report: Obamacare Raked $1.8B From Uninsured in First Year of '14
• 'Missing Lester': Twitter Goes After NBC's Holt for Debate Silence

• Feds Steal 100 Million Acres of Alaska During Summer of 2016
• Clinton on Debate Night: Using a Private Server Was Just a 'Mistake'
• Trump Names 'Mainstream Media' Clinton's 'Best' Ally
• Trump Calls for 'Law and Order' to Stop Violence in US
• Trump questions whether the commission on presidential debates deliberately gave him a faulty microphone
• Slow start on Wall Street adds to FTSE's woes
• How US media reacted to the first presidential debate between Donald Trump and Hillary Clinton
• The debate proves Donald Trump could be a world leader – in manterrupting


• Why Trump's performance on the 'most important night of the whole campaign' was especially brutal