•Russia's Attack on the Election
• The Implications of Regular Lame-Duck Sessions
• Congress CR Fails the American People on All Counts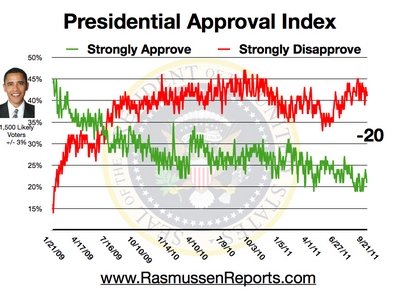 • Presidential Approval Index Tracking Poll
• White House Watch: Clinton 42%, Trump 41%, Johnson 7%, Stein 2%
• Voters Show More Support for Stop and Frisk Laws
• The Clintons' big fat Greek bond wedding
• Tick-tock: How Kerry's Syria deal fell apart in 20 days
• FEC Dems lay groundwork to ban Fox, WSJ political coverage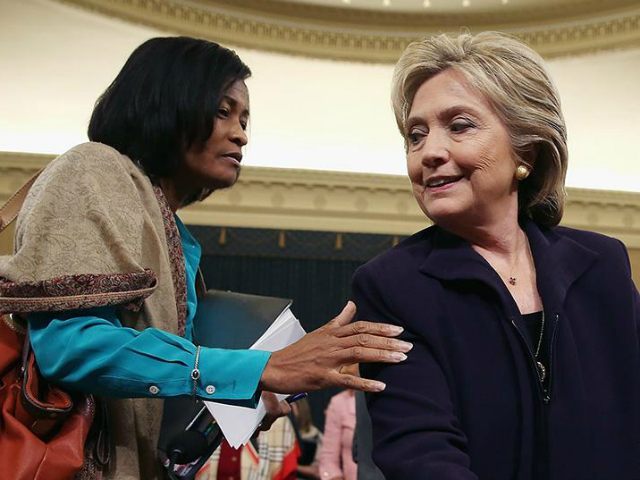 • Charitable Giving
• NYC Pushes To Silence 'Negative Rhetoric' About Islam
• Brown University Railroaded Student Accused Of Rape, Judge Rules
• Congressman: Cheryl Mills 'Lied To Everybody' About Hillary's Server
• Page Six
• First death confirmed after train crashes in New Jersey station
• The FBI's Hillary email probe is looking even more like a coverup
• Obama explains why he refuses to say 'Islamic terrorism'
• Feds Spend $56,698 Studying Whether College Kids Eat Junk Food When They Drink
• ISIS Has Built 'Hell on Earth' in Mosul
• Sheriff Dave Clarke steps in for air marshals with unruly plane passenger
• UK shares American problem of "asylum seekers" simply disappearing, so they're building a wall

• The Note
• Body Cameras Slash Complaints Against Officers: Study
• Amanda Knox on Being 'Wrongfully Convicted'
• Advisers: Trump 'Missed Opportunities' at Debate, Didn't Execute
"I must be honest. I can only read so many paragraphs of a New York Times story before I puke." -Rush Limbaugh
• Evangelicals Despair Over Trump and Jolting Change
• Making Lightning Strike Twice
• Clinton Struggles to Lure Young Voters From Third Parties
• The Brutal Strategy Behind Russia's Massacres in Syria
• High Blood Pressure May Impair Children's Thinking
• U.S. to Protect Right to Take Nursing Homes to Court
• FBI's Comey won't reopen Clinton email probe, refuses to say she's truthful
• Congress bucks Obama's veto of Saudi 9/11 lawsuit bill in stinging rebuke
• Donald Trump blasted over Alicia Machado insults, defended for protecting Miss Universe brand
• Libya once again braces for chaos as Islamic State retreats
• Aleppo 2.0: Gary Johnson can't name single foreign leader
• Obama visits troops, takes heat over refusal to utter 'radical Islamic terrorism'
• Crikey! 'Unluckiest Man in Australia' Gets 2 Penis Spider Bites in a Year
• 'Trumpapillar': Fluffy Caterpillar Looks Just Like Donald Trump's Hair
• 5,000-Year-Old Swirling Rock Art in Scotland Remains a Mystery
• More than 100 injured, at least 1 dead after major New Jersey Transit crash at Hoboken station
• Man smashes glass over bartender's head in Queens after she cut him off

• How Congress averted shutdown
• Clinton holds narrow leads in five battleground states
• Senate Dems shun GOP vulnerables

• Bill Clinton's unfinished business in Israel
• Will 'Saturday Night Live' take down Trump?
• Trump's new brain trust
• Don't Pardon Snowden
• Washington State Shooter, A Non-U.S. Citizen, Voted in Three Elections
• Caldwell: Trump v. Hillary Was a Huge Blowout

• Employees at Trump's California golf course say he wanted to fire women who weren't pretty enough
• Wells Fargo live updates: CEO faces another round of grilling about bogus accounts
• 'Mexico is one big cemetery.' The search for the secret graves of the disappeared



• Divided America
• Clinton visits Iowa
• Teen's mother shocked and saddened by shooting
• Police shootings and the mentally ill



• Wall Street lower as oil pulls back
• India says launches strikes on militants in Pakistan, raising risk of escalation
• Congress rejects Obama veto, Saudi September 11 bill becomes law
• Police say man killed near San Diego was pointing vaping device
• Up to 600 wounded in Syria's east Aleppo, evacuations needed: U.N.



• Post Politics Blog


• Awkward questions for Clinton as Trump campaign airs husband's infidelities
• Darkness, fear grip Aleppo as stepped-up bombing increases horrors of war
• Donald Trump's weight problem: He can't stop talking about 'fat' people
• 'They put us through hell': A Marine abused at boot camp explains why he spoke out
• Supreme Court to review case important to Redskins trademark fight

•Most Republicans Continue to Disapprove of Supreme Court
• Partisan Divide on Government Regulations Remains Wide
• Do Employees Really Know What's Expected of Them?
• Congress Averts Shutdown by Clearing Stopgap Bill With Zika Cash
• About Those 33,000 Hillary Clinton E-Mails: QuickTake Q&A
• Supreme Court Takes Up Trademark Case That Might Affect Redskins
• Obama Giving Away Internet October 1st Call Congress Now!
INVESTOR'S BUSINESS DAILY
• Sorry, Hillary, You And Bill Not Tax Cuts Caused The Financial Crisis
• Hillary's Security Clearance Should Have Been Revoked Long Ago
• Trump Is Right Corporate Taxes Should Be Slashed Or Eliminated
• Trump Talks Alicia Machado: Miss Universe Org Wanted to Fire Her and 'I Saved Her Job!'
• Why Don't Media Outlets Get Out of the Online Polling Business Entirely?
• Chelsea Clinton Criticizes Trump for Invoking Her Dad's Past, Juanita Broaddrick Responds
• Study: 'Fingerprint' Of 'Global Warming' Doesn't Exist In The Real World Find no 'record setting' warming
• 'Climate Exaggeration Is Ruining Science'
• Linda Tripp Reopens Vince Foster, Filegate, Travelgate, Whitewater Scandals
• Krauthammer: 'Possible' Obama Will Pardon 'Remaining High Officials' In Hillary Email
• L.A. Times Tracking Poll: Donald Trump Ahead After Debate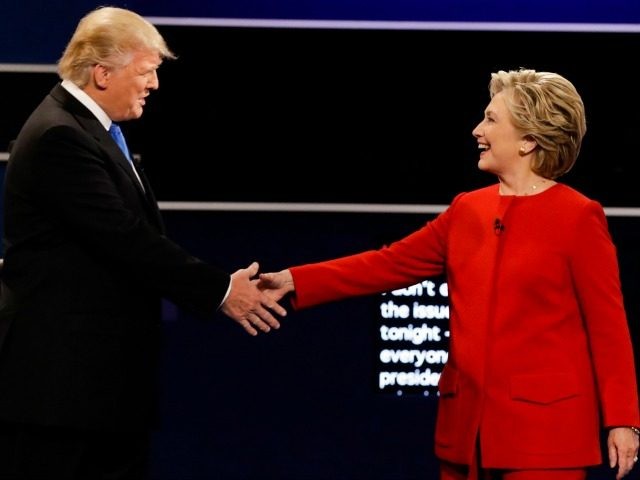 • Trump to Iowa Supporters: To Understand the Clintons, 'Follow the Money'
• Gold Star Mom To Obama: Why Don't You Blame Radical Islamist Terrorists?
• Obama's First Economic Chief Predicts High Unemployment Ahead
• Obama Officials Wonder: Why Won't the Boss Stand Up to Putin?
• Louisiana Police Shoot 6-Year-Old

• RCP Blog
• Real Clear Markets
• Battlegrounds: Iowa Is a Must-Win for Trump
• Congress Gives Obama His First Veto Override
• Obama: Dismantling ISIS Means Counteracting The Hateful Ideology That's Coming Over The Internet

• Clinton and Obama, First Heal Yourselves on Race
WALL STREET JOURNAL: OPINION JOURNAL
• Best of the Web (James Taranto)
• Congress Overrides Obama
• The Legend of Saint Comey
• Trump Tees Up a Necessary Debate on the Fed
• Who's the Systemic Risk Now?
• Clinton Leans on Sanders for Support of Young Voters
• Donald Trump Looks to Turn Iowa Red as Early Voting Begins
• Blogs: The Corner | Media Blog | Frum's Diary | Mark Levin | Sixers
• The Next President Unbound
• The Anti-Police, Anti-Black Bandwagon in Charlotte
• Attention, Christians: Donald Trump Is Not 'Your Jerk'
• Obama's Overtime Ordeal: GOP Voting to Delay Implementation
• The Trap Clinton Has Set for Herself
• Holt in the Name of the Law
• Cecile Richards Brags: 'We're Proud of' Performing Abortions
• Clinton Campaign Manager Dodges Foundation Questions on 'The View'
• Nets Skip FBI Director Grilled for Immunities in Clinton Investigation
• Congress rebukes Obama, overrides veto of 9/11 legislation
• Report: Suspected Mall Gunman, a Non-Citizen, Voted in 3 Elections in Washington
• Senators Mock Kerry's Threat to Stop Talking to Russia
• IRS Accused of Operating 'Behind a Veil of Secrecy' in Probe of 99 Churches
• WH: Obama 'Made Good on His Promise' to 'Responsibly Reduce' U.S. Military Footprint in Iraq
• Newsweek: Trump Did Business With Castro's Cuba
• Feds Begin Tracking Employer Pay by Gender, Race to 'Better Focus Investigations'
• Rep. Wears Hillary Pin During Hearing on Clinton Emails
• Obamacare Loses Another Insurance Provider
• North Carolina gun group raffles AR-15 rifle along with portrait of Hillary Clinton
• 'Follow the money': Trump blasts Clinton 'ring leaders' for getting immunity deals
• Libertarian Gary Johnson: 'I guess I'm having another Aleppo moment!'
• Hillary Clinton gets poll boost from TV debate as Donald Trump advisers admit frustration
• Donald Trump gets Alec Baldwin treatment on Saturday Night Live
• Hillary Clinton struggles to win over millennial voters loyal to Bernie Sanders
• Can Hillary Clinton win in Never Trump land?
• Actual scientific polls show a big win for Hillary Clinton in the first debate
• Obama: Colin Kaepernick should 'listen to the pain' he may cause by sitting out national anthem