• Elena Ferrante, the Clintons and the Beauty of Anonymity
• Lawmakers Have a Plan to Stop IRS From Censoring the Free Speech of Pastors
• How to Ask a Question at the Next Presidential Debate
• Cruzing Past the Point
• Virginia Hasn't Stopped Noncitizens From Voting, Watchdog Finds
• Obama Administration Is Willing to Break the Law to Save Obamacare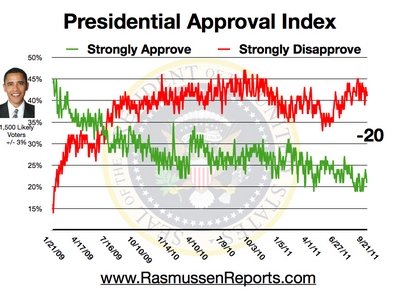 • Presidential Approval Index Tracking Poll
• White House Watch: Trump Turnaround?
• Are Americans Tuning Out the NFL Over Protests?
• Beltway Confidential
• Pence Deflects Kaine Attacks, Gives Republicans a Boost – Byron York
• Vice presidential debate shows what might have been
• After last night
• Free Speech Prevails at the University of Minnesota

• Here's Who Won The Vice Presidential Debate, According To Almost Everyone
• Everyone Is Talking About Tim Kaine's Bizarre Behavior During The VP Debate
• Newly Discovered Video Of Obama: 'Saddened Whites Are Still Superior'
• Kaine Incorrectly Blames Bush For Obama And Hillary's Iraq Withdrawal
• Page Six
• How the FBI Wound Up Destroying Evidence
• Stingray kills head diver at Underwater World
• New doc about incarceration of black men is filled with lies
• Obama's tragic admission: He's learned nothing as president
• Why even Bill Clinton's admitting that ObamaCare doesn't work
• Missouri Dem Downplays Clinton Endorsement
• John Podesta Has Difficulty Defending Bill Clinton's Comments on Obamacare
• Morning Joe Roasts Obama Over Syria: This Will Haunt His Legacy For 100 Years
• Obama Admin Secretly Facilitated Iranian Ballistic Missile Program
• How to Be a Successful Freshman in Congress
• California's new Brock Turner rape law erodes fairness in the system
• Politico: Hey, about that Trumpian disaster for House Republicans

• The Note
• Hurricane Matthew Continues Destructive Path Toward US, 11 Killed in Caribbean
• VP Debate: 6 Moments That Mattered
• Eric Trump Says Father 'Absolutely' Paid Federal Income Tax
• Senators Call on Justice Department to Investigate Wells Fargo's Top Brass
"I must be honest. I can only read so many paragraphs of a New York Times story before I puke." -Rush Limbaugh
• Debate Takeaways: Tim Kaine Presses Mike Pence on Russia, but Not Gay Rights
• Who Won the Debate? Commentators Give Edge to Mike Pence
• Bush, Kasich and Christie Are Turning to Clinton More Than to Trump
• IRS subjects tea party groups to new round of scrutiny, publicizes tax return data
• 200 veterans die waiting for care as troubled Phoenix VA builds new backlog
• Donald Trump ditches 'negative' CNN, switches to Fox News for VP debate
• Judge won't release Clinton draft indictments: Privacy outweighs public debate
• Hurricane Matthew: Where Is This Massive Storm Heading?
• Twitter reacts to Pence's 'That Mexican thing' debate remark
• Sen. Tim Kaine and Gov. Mike Pence obsess over Russian leader Vladimir Putin during vice presidential debate

• The Briefing Room
• Five takeaways from the vice presidential debate
• Trump wins momentum boost from Pence with Kaine assist
• ThatMexicanThing.com redirects to Clinton website

• Obama DOJ drops charges against alleged broker of Libyan weapons
• Clinton: I don't recall joking about droning Julian Assange
• Donald Trump is running out of time
• Insiders: Pence outclassed Trump
• House Republicans: Trump actually not so toxic
• Kaine struggles to pin Trump's scandals on Pence
• Today's Standard
• Kristol: Pence May Have Helped Trump Some

• Candidates bicker for 90 minutes, to little effect on presidential race
• The Times' judges score the vice presidential debate: Pence had the better night
• The most important exchanges of the vice presidential debate, annotated



• Steady Pence gets wide praise, but Kaine lands jabs on Trump
• Hurricane Matthew moves into Bahamas after battering Haiti
• AP Fact Check: Claims in the VP debate
• WHY IT MATTERS: Islamic State



• Pence takes tougher line than Trump on Russia at contentious VP debate
• Vice presidential debate on track for 40-50 million TV audience: media
• Trump calls tax avoidance 'smart,' most Americans call it 'unpatriotic': poll
• Proposed U.S. anti-inversion rules enter final review
• International observers will watch U.S. vote closely



• Post Politics Blog


• Kaine seemed like he was trying too hard
• Mike Pence gives Republicans buyer's remorse
• Joe Scarborough: Don't hate Trump for his low tax rate. Hate Congress for making it possible.
• Mike Pence defends the running mate he wishes he had


• Mike Pence could have stumbled in the debate if only Tim Kaine let him talk
• VP debate pits Kaine and Pence against Trump's own words
• Women, Work and Life Well-Lived
• Trump Seen as Less Conservative Than Prior GOP Candidates
• Alaska Oil Known Reserves May Have Just Grown 80% on Discovery
• The IMF Is Worried About the World's $152 Trillion Debt Pile
• Pence Succeeds in Debate Without Really Trying to Defend Trump
• What Difference Does It Make? Whistleblower: Hillary Nixed Peace Deal that Led to ISIS Takeover in Libya
• CNN Poll With 11% More Democrats Shows Mike Pence Won VP Debate
• Obama Blames Syrian War on Climate Change Attacks Patriots with Flag Pins
• VIDEO: Hillary Supporters Commit Voter Fraud in Las Vegas Again!
• Guccifer 2.0 Releases CLINTON FOUNDATION DOCS! Dems Funneled TARP Funds to their PACs!
INVESTOR'S BUSINESS DAILY
• Political News & Commentary: Andrew Malcolm
• Memo To Trump: Blame Obama, Not Ford, For Small Car Shift To Mexico
• Left Admits ObamaCare Is Broken But Proposed 'Fix' Would Be Even Worse
• Why Is U.S. Giving Away The Internet?
• CNN Panel Dissolves Into Giggles Over Whether Trump Should Keep Acting 'Obnoxious'
• Scarborough: Bill Clinton's 'Trying to Destroy His Wife's Campaign' With Obamacare Comments
• Former NASA climate chief Hansen says energy industry must pay trillions to combat 'global warming'
• Karl Lagerfeld: Kardashian Brought Paris Robbery on Herself by Flaunting Wealth
• Faith-Based Film 'I'm Not Ashamed' Offers First Look at Columbine Shooters
• DiCaprio-Obama White House Summit: Climate Deniers 'Do Not Believe in Facts'
• DiCaprio: Climate Change Deniers Should Be Banned From Public Office
• Ben Stiller Reveals Battle with Prostate Cancer
• Mike Pence Ditches Donald Trump, Starts His 2020 Run at VP Debate
• Rude Tim Kaine Uses Donald Trump's Words to Corner Mike Pence

• RCP Blog
• Real Clear Markets
• Attacks on Clinton, Trump Fuel VP Debate – James Arkin
• Obamacare Rate Hikes: Incompetence or Sabotage? – Newt Gingrich
• Full Replay: Vice Presidential Debate Between Mike Pence & Tim Kaine
• Hugh Hewitt: Pence Has Successfully Reframed Clinton's "Avalanche Of Insults" Attack Pattern
• Unorthodox Thoughts About the Unorthodox Debate
WALL STREET JOURNAL: OPINION JOURNAL
• Best of the Web (James Taranto)
• The Trump Tax Setup – Holman Jenkins



• Blogs: The Corner | Media Blog | Frum's Diary | Mark Levin | Sixers
• Oblivious Trump Can't Avoid Self-Sabotage
• The Pence Win
• Winning By Losing, Losing By Winning
• Pence Does What Trump Couldn't with Solid Debate
• Does the Clinton Campaign Have a Strategy Beyond Attacking Trump?
• Nationalists for a Smaller America
• Please Tell Me These FBI/DOJ 'Side Deals' with Clinton E-Mail Suspects Didn't Happen

• Mike Pence: A Big Reason to Vote Trump



• Pence Won Debate Despite Quijano's Best Efforts
• Alarm Over Clinton Push in Catholic Church's Spanish-Language Media
• BET Hip Hop Awards: Light on Awards, Heavy on Grievances
• CNN Panel Slams Pence for 'Big Sin' of Lying and 'Running in 2020'
• Feminists, Celebs Swoon Over Kaine's 'Heartfelt' Abortion Support
• ABC, NBC Brush Off Kaine Interruptions, Sacrificed Himself for Hillary
• ABC Ignores Bill Clinton Knocking ObamaCare as 'Crazy System'
• Paris Climate Accord Will Take Effect Before Next US President Takes Office
• Pence: 'We Have a Deportation Force. It's Called Immigration and Customs Enforcement'
• Pence: Clinton-Kaine Want to 'Build on Obamacare,' 'Expand It Into a Single-Payer System'
• Labor to Young Americans: Work Less, Achieve Less



• Dick Morris on VP Debate: 'Pence Won Handily'
• Chertoff: Trump 'Seems to Embrace Our Adversaries'
• Hurricane Matthew Hits Haiti and Cuba, Takes Aim at Bahamas, US
• Army Chief of Staff: Enemies 'Went to School on Us'

• Watch CBS Moderator Repeatedly Challenge Pence in VP Debate
• Assange Alleges Hillary Proposed Drone Strike Against Him
• Obama: 'Battered' Coal Miners 'Blame Me and My Tree-Hugger Friends'
• Police Group Calls Out CNN for Biased Editing During Charlotte Riots
• Trump campaign manager: Bill Clinton is now 'our best surrogate' after Obamacare slam
• Kaine's 70 interruptions of Mike Pence during VP debate gives Clinton's running mate low marks from viewers
• Two policemen injured in Brussels stabbing in suspected terror attack
• Bill Clinton calls Obamacare 'the craziest thing in the world'


• Liberal pundits concede: Mike Pence won the vice-presidential debate